Posted by Katie Crum on 5th Aug 2022
It's that time of year again! Teachers and students are gearing up to head back to school in the coming months. As a former elementary school teacher, the start of the year was my favorite time – a time to pick out a new decorative or creative theme and a blank classroom waiting to be organized just right!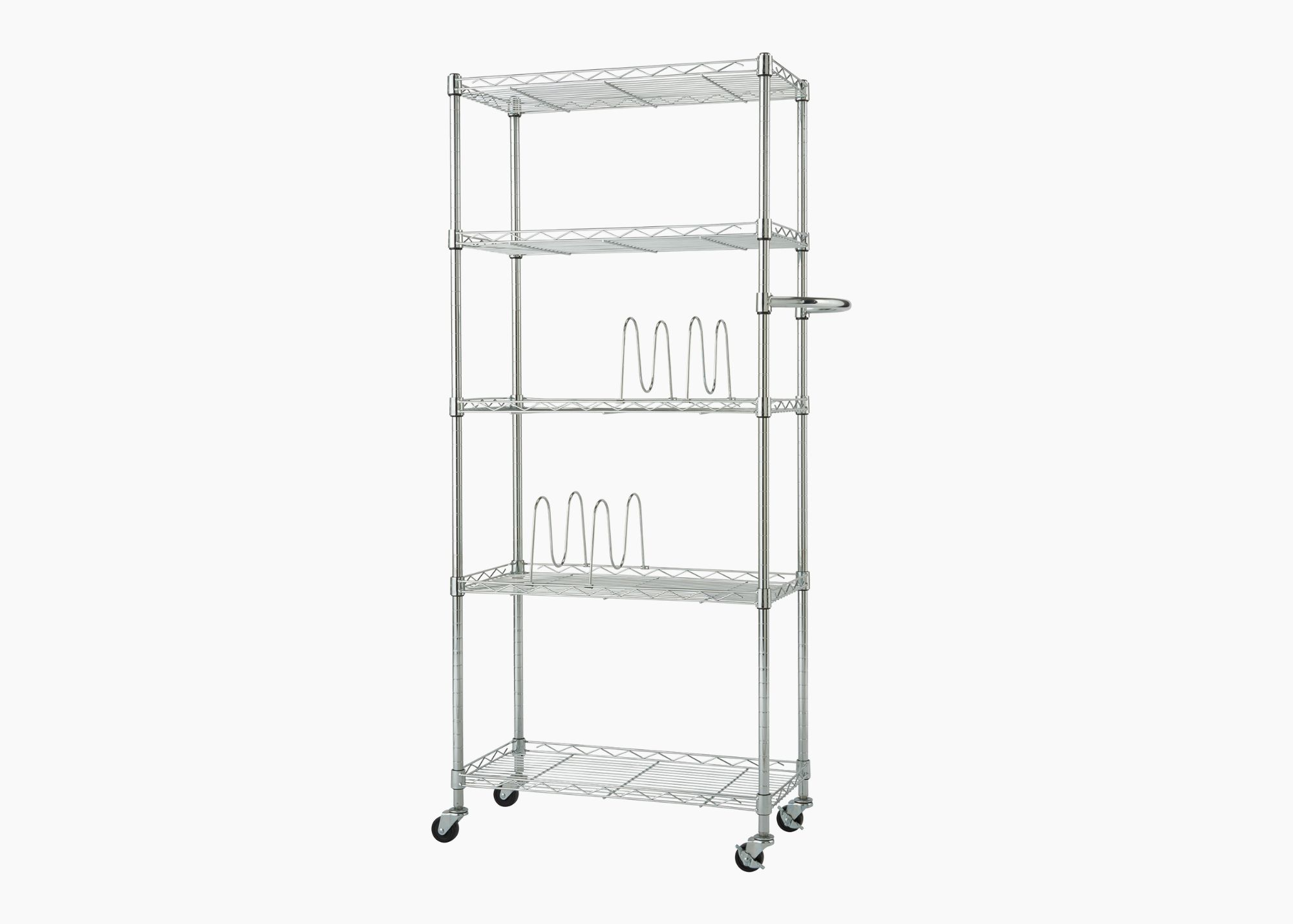 Just as important as a visually appealing classroom is one that meets the needs of the teacher and students. The TRINITY BASICS® EcoStorage® 5-Tier Rack is a fabulous choice for uniform and versatile schoolwide storage. The relatively lightweight but sturdy frame makes this my pick for storage closets, classrooms, lunchrooms, music rooms, art rooms – you name it! I loved that I could move this around while rearranging my room and not have to wait for the janitorial staff to help me move a bulky bookcase. I could tuck this away in a closet or place it right in the classroom to store books.
The chrome option lends itself to classroom display – blending in visually and making materials easy to see. I paired this wire shelving unit with some book bins that come in calming grays, blues, and greens. They made me think of the ocean. I could see myself placing laminated pictures of sea stars, fish, and shells on the front to help students find their book bin that they would use for the school year.
Setting up your student book center:
Assemble TRINITY BASICS® EcoStorage® 5-Tier Rack.

Place the unit near the classroom library and/or in an easily accessible place for student use.

Label the front of ECR4Kids Linking Book Bins with student names.

Optional: Adhere laminated names on bookcase equidistant from one another and place corresponding book bin on top to make student routines fast and easy.

Once the school year begins, have students fill their book bin with "good fit" books that they can take back to their desks, stations, or corners of the room.
Ways to use your student book center:
Students shop for books in the classroom library using the visual "I PICK" to determine five books that feel like a "good fit" for them.

Students sit back-to-back for 5 minutes to read quietly from the books in their book bin. After 5 minutes, students turn hip to hip and one student reads from their "good fit" book. Repeat with the other partner.

Students gather on the carpet to listen to the teacher teach a reading mini lesson. Students are released to grab their book bin, head back to their desk spot, and practice the lesson with a "good fit" book.

Students place readers from small group lessons in their book bins after practicing skills with teachers. During reading time, students can increase confidence and fluency with repeated readings.

Students use highlighter tape to identify high frequency words in their "good fit" books and/or store bookmarks with reading strategies in their book bins.
A "Good Fit" Book Center is something that can be used in any age classroom. The number of books, the genre, the lessons, and the partnerships can be tailored to all students and grade levels. The individual book bins allow students to take responsibility for their learning and ownership for the tools they use each day.
In upper elementary or middle school, journals and reading notebooks can also be stored on the TRINITY BASICS® EcoStorage® 5-Tier Rack. Middle school classrooms could especially benefit from having a place to store personalized learning tools. Although I have designed this as a reading station, this same storage solution could be used to organize science experiments, math games, and/or art supplies.
May your upcoming year of learning be filled with interesting stories, beautiful spaces, and happy faces!
It's that time of year again! Teachers and students are gearing up to head back to school in the coming months.