Posted by Katie Crum on 22nd Sep 2022
The front of my house overlooks the water. The street is a well-kept secret in Florida, hidden behind a main road, and marked by the shell and dirt road that winds along the ocean. Our house is one of the oldest in the area, dating back to the 1800s. I love the millwork, bricks, and old charm that I so missed from my time growing up in Connecticut. The entryway is grand, with a chandelier and a lovely staircase and my favorite thing about it is an old curio cabinet that sits at the base of the stairs and has probably been there for decades, not for its beauty, but more for its sheer size and weight.
When we first moved into the home, it was not unusual for the doors of the cabinet to be open, soccer balls, toy guns, walkie talkies and other outside play toys spilling out as contractors stepped over them and children ran out the door to play. I think it's fun to think that of all the things this cabinet has housed, I doubt it has ever housed so many toys.
It really is this dichotomy that brings me joy—a formal and carefully curated home that is also lived in. You will find hockey bags and kicked off flip flops and maybe even a trail of sand right in that very space. And truly, for as much as we want our homes to be beautiful and for everything to have a place, we have to remember that we create these spaces for our families. And so, I am always working to marry décor and style with function. I love a good design element that can also be a storage center for all the stuff we own and use.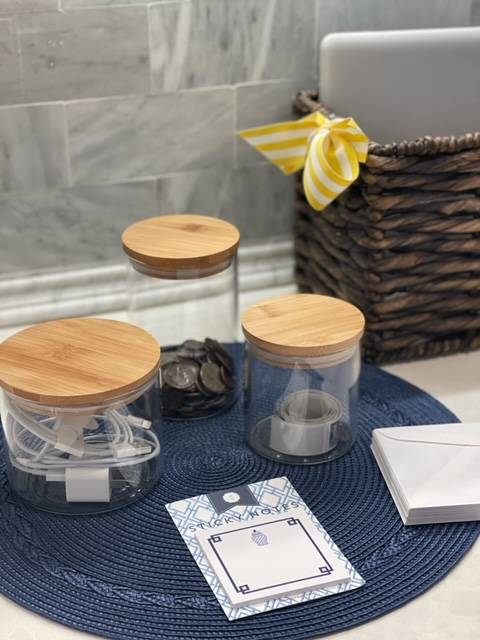 Keeping your home aesthetically pleasing, while also maintaining ease and function can be a challenge. That is why I love these Trinity storage containers made of glass with bamboo lids (nontoxic, my fave!). They come in sets of three with three different sizes to fit your needs. Their versatility is vast. Let me show you how you could use three in one space.
Sticky tack

Highlighters

Binder clips
Chargers

Stamps

Spare change
Bar soap

Cotton rounds

Q-tips
Crayons

Missing pieces from toys

Glue sticks
Jewelry

Sleepy oils

Pocket squares
Pacifiers

Diaper rash cream

Newborn mittens
Dog treats

Sunscreen

Bug Repellant wipes
At any given time, you could use a glass container styled on its own.
One near the front door for keys...
One near the back door with doggie bags and a leash...
One on the kitchen table with questions inside to spur dinnertime conversation...
One in the bathroom for lipstick...
One in the kids' bathroom with anil clippers and a comb...
One in the garage for golf tees or golf balls...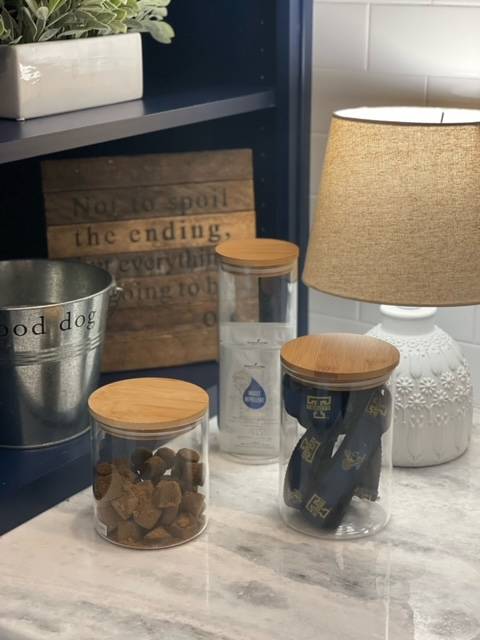 My challenge to you: grab all three sizes and sets. I promise you that you will use them. You can move them, you can hide them or display them, and best of all, you can carefully curate a functional space anywhere in your home.