Posted by Katie Crum on 27th Sep 2022
I bet there is a time of year where you feel like all the birthdays converge. You know the time when you're furiously searching in the closets and drawers for bags and tape.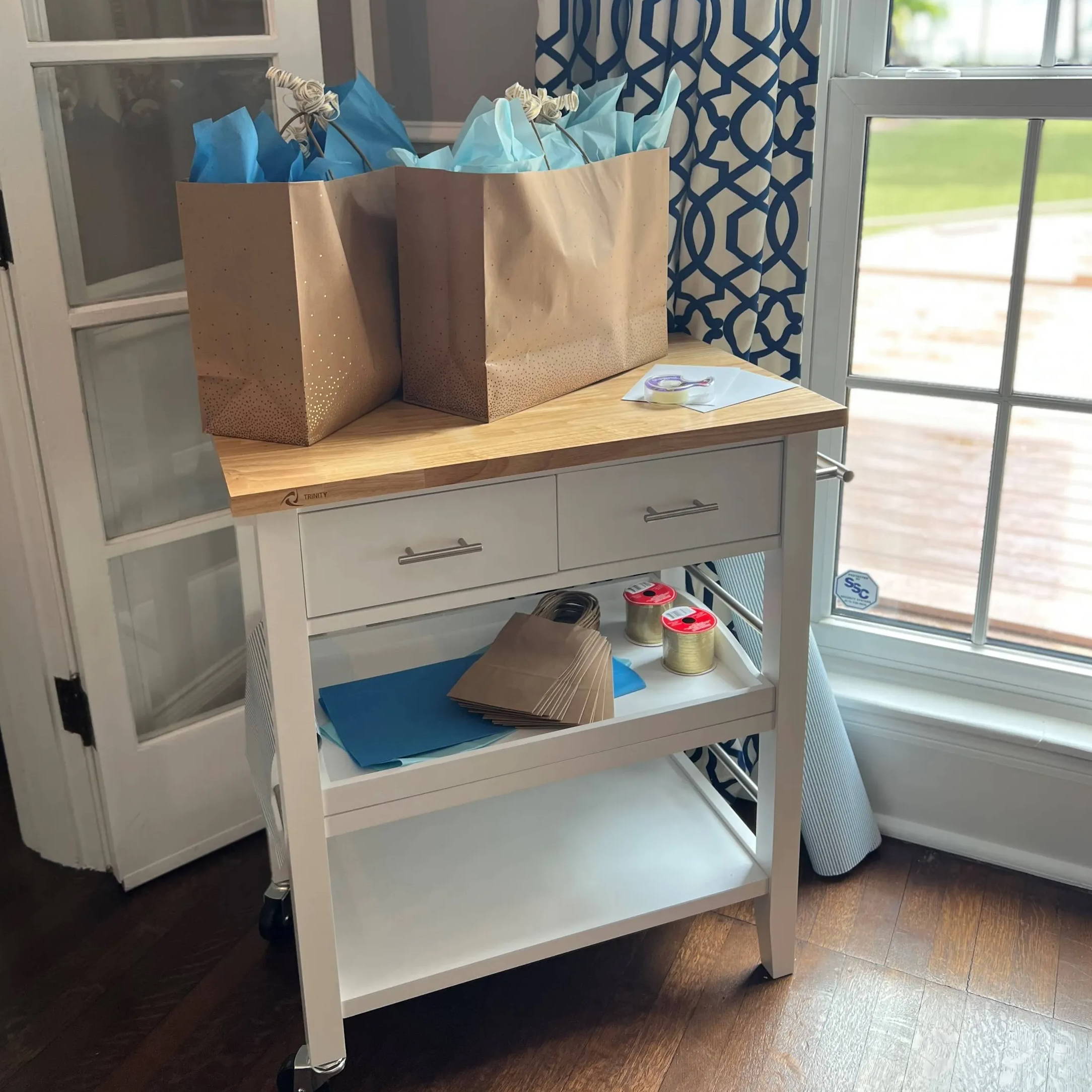 I bet there is a time of year where you feel like all the birthdays converge. You know the time when you're furiously searching in the closets and drawers for bags and tape. Or worse, you find yourself running to the store for supplies, wrapping in the car four minutes before the child's birthday, and entering with a nice sweaty dew from the adrenaline. For our friends and family, that lovely season is the fall. It feels like we hit the ground running in September and don't come up for air until after Christmas. My older son has a birthday at the beginning of December and makes that month feel like wrapping gifts is a constant!
I have been looking for a way of organizing all of our wrapping paper, tissue paper, cards, tape, scissors, ribbons, and bows in one place. I find that I buy the same things over and over again but I cannot recall where in the house I stash them. As soon as I saw the Trinity Kitchen Cart I knew I had figured out the solution to my problem! With wheels on one side, I can move it around the house depending on how much room I need. It can come without drawers but I loved this option to hide scraps of ribbon, tape, and scissors. The removable tray makes it easy to carry materials over to the countertop in the kitchen or plop on the ground for a marathon wrapping session.
Although Trinity offers other kitchen cart options, I liked this for the solid and sleek white exterior. It fit in many rooms in my house, blending into the white I already have in the home and the solid bamboo top was a sturdy place to pack gift bags full of tissue paper and fill out cards with well wishes. It was easy to put together and the finished piece was so pretty that it sat in my living room for quite a while!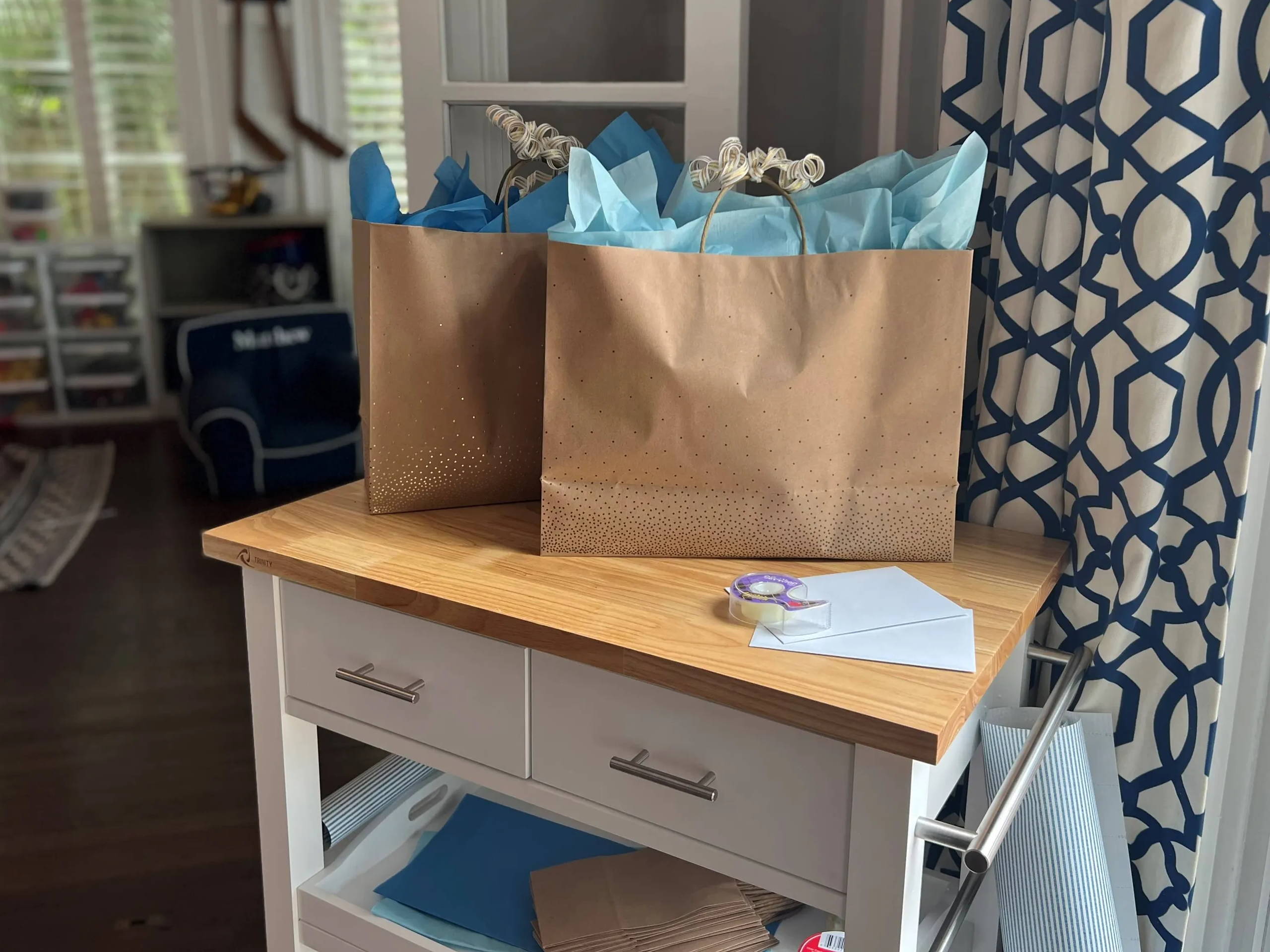 I want to share some things I've learned over the years that have made my life easier when it comes to having stylish gift wrapping.
Find sets of blank cards that fit your personality. Everyone knows I love the color navy blue. I have sets of cards that have various designs of navy blue, the family monogram, and/or nautical emblems on the front. I do have cards for various celebrations, but if I don't have time to grab one, having blank note cards on hand makes a difference.

I love a good brown paper bag in multiple sizes and while I'm at it, a roll of brown butcher paper also makes wrapping a dream. Don't like brown? Grab white or another signature color that speaks to you. These simple neutral choices make it easy to add a pop of color with tissue paper and a bow and change it up for every occasion.

Twine. I'm telling you. When I moved into this house, the previous owner left a spool of twine attached to a decorative piece on the wall in the kitchen. Fast forward to now where I use it for everything! Again, it's a neutral and it adds a darling touch.

Plain gift tags. Don't mind me if I also purchase them in brown recycled paper, per usual. It's my thing and it makes it super simple to tie on teacher's gifts or food dropped off on a neighbor's doorstep. At Christmas time, I ordered a bulk order of monogrammed navy and white gift tags and found deep blue ribbon to complete the look.

Order things like tissue paper, bags, and tape in bulk to cut down on cost and have on hand. Stick with a color scheme that includes some neutrals so that you're not over buying supplies.
Ultimately, this cart has found a forever home in the spare bedroom on the third floor where I wrap and tuck gifts until it is time for their debut. Gone are the days where the wrapping paper is wrinkled and hard to find from being crushed in a closet. I have been laying wrapping paper rolls straight on the bottom of the cart which makes it easy to see what print I want to pull out to use. I also found that having a place to house gift bags given to us has helped me recycle and cut down on purchasing more of the same.
You can truly use this cart for many different uses but I will say that the home gift wrapping station has been an absolute game changer for me!
This kitchen cart is ready to stay put in your kitchen or be moved to where you need it most. No matter where it will help you keep everything in its place.