Installation Instructions
In-depth instructions on how to install your products.
Can't find what you need? Reach out to us!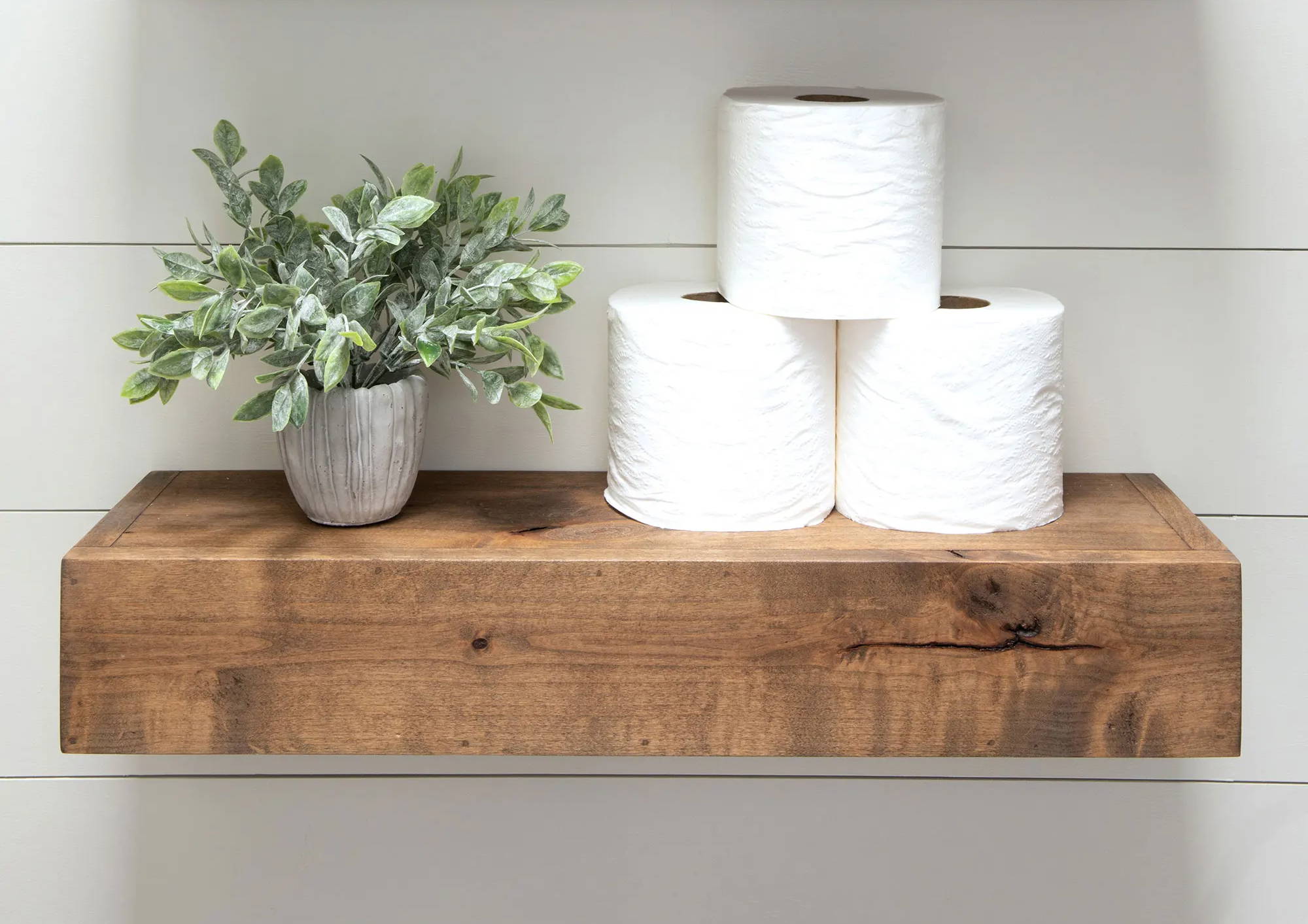 Instructions for the following products:
DRAKESTONE Farmhouse Floating Shelf
So we designed this floating shelf with a couple little goals in mind
one we wanted it to be sturdy something that you can put some weight on it and not worry about it pulling off the wall
and two we wanted it to sit all the way against the wall so that you get that illusion which is why people like floating shelves; that illusion that the shelf is just kind of protruding out from behind the wall
So what we've done that is we've designed it in such a way that it's a box with a hollow back and there's a brace that mounts to the wall
so this brace is nice and sturdy it's not going anywhere you slide this box on attach it and then that box goes all the way up against the wall no gap because of hardware or anything like that
so that's how it works and as far as installation goes you're going to need a couple things
you're gonna need a small drill bit about eighth of an inch diameter
a drill
a Phillips head
and a level
the first step is going to be attaching this brace to the wall and as far as locating where this brace goes pretty simple
left to right, just give it in the general area that you want because this brace is shorter than the opening in the box so you have a couple inches wiggle room
as far as the height goes, just keep in mind that that box is going to come up another three-quarter inch because of the thickness of the wood taller than the brace
and then the most important thing is just make sure it's perfectly level. So put your level on here make sure it is exactly right once you have it right where you want it,
you're gonna take your drill this small bit only about an 8 inch size drill bit you're gonna drill right through the middle of those holes all the way into the wall actually go ahead and make a hole in the wall on both spots
now if you're going into a surface other than drywall, it's going to be a little different. Rather than trying to penetrate the surface you're just going to go through the wood and just kind of scratch that surface whether it's brick or tile just enough to where you can see where anchors are going to need to go later
Alright so now that you've got your hole marked, you're actually going to take these drywall anchors and insert them right where those holes were
just use a Phillips drill bit to screw it into the wall, it should go right in
sometimes you have to widen that hole a little bit to help it. If you're going into brick or tile or some other harder surface, you'll need a special drill bit and special anchors
but as long as you're going into the drywall set the white anchor in and then with each anchor will come a small screw like this
so once the anchor is in the wall both anchors, you'll then just line up the holes with the hole on that anchor and drill or screw this screw directly into the anchors and you're done
if you should happen to hit a stud it's actually good news but rather than using the anchor if you're gonna stud you won't be able to get this into the wall because the stud will stop it just
replace this whole anchor with a two and a half inch wood screw and just take the wood screw through this directly into that wood stud
now that you've got your brace set the hard part is done
all you have to do is take the shelf slide it onto the brace
it should be a pretty snug fit
there you go
now the last step is to take a couple screws or nails insert them from the top into that brace just to make sure it stays on there
now nails and screws
it's kind of tricky obviously if you use nails that's less hardware sticking out or visible on top but then you're gonna have a hard time getting the shelf off the wall
so I'd recommend screws just because you can go and put them in there sink them in all way see they're not poking up and then if you ever move or you need to relocate this you can just pull those screws and pull it off the wall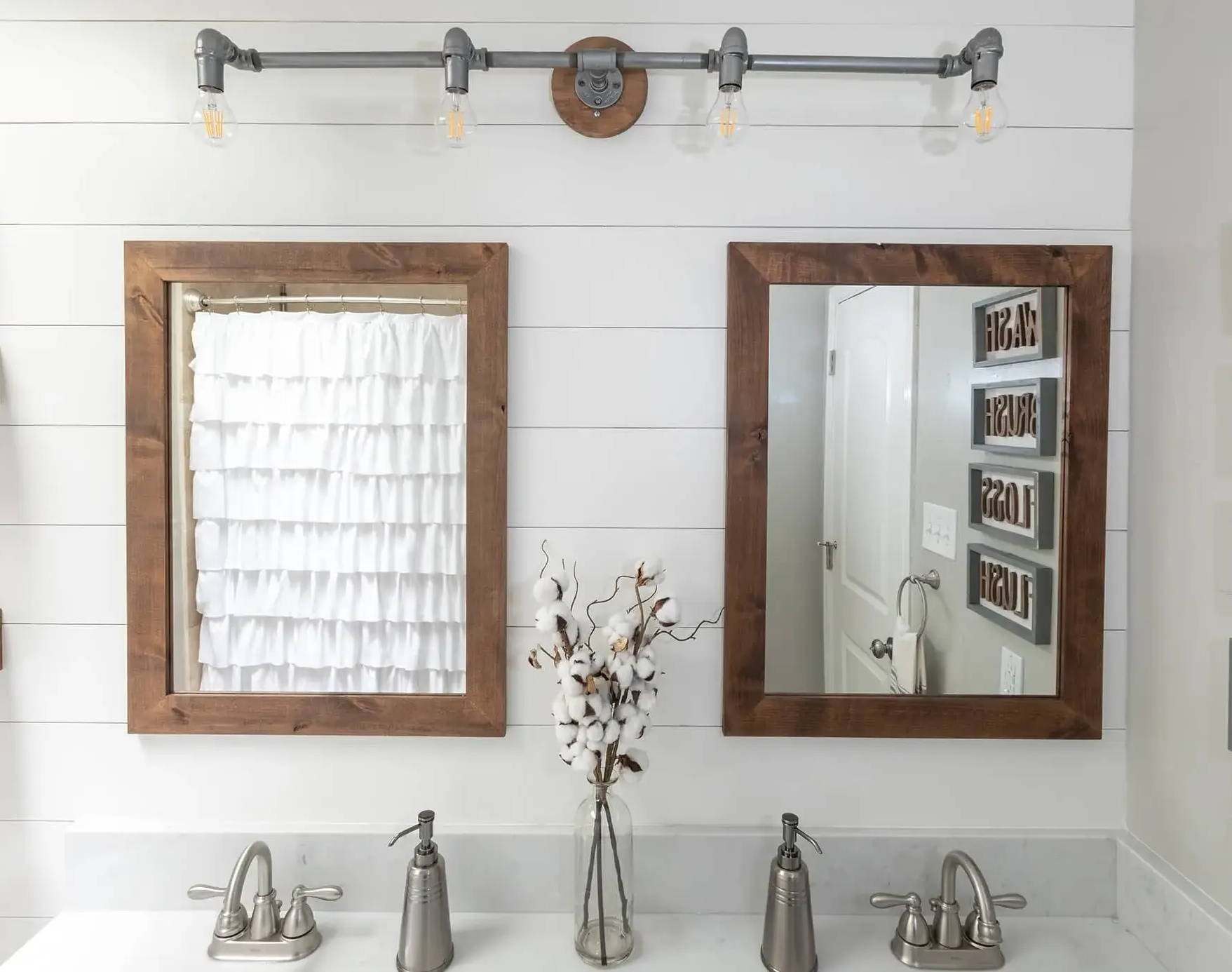 Instructions for the following products:
DRAKESTONE Farmhouse Vanity Mirror
DRAKESTONE Barnwood Mirror
DRAKESTONE Floating Book + Display Shelf
DRAKESTONE Coat and Towel Rack
DRAKESTONE Mid-century Coat Rack
DRAKESTONE Stackable Floating Box Shelf
DRAKESTONE Towel Rack
For this product's 3D interactive instructions download the free BILT app from the App Store or Google Play.
An iPad displays a BILT product overview page
showing how many people,
how much time,
and how many steps the project entails.
Users begin with the end in mind and review what tools are required and what parts are included.
The instructions proceed step by step with voice and text guidance.
BILT offers play/pause control so users can work at their own pace.
The animated 3D images show how each part fits together in the assembly or installation.
This video is merely a preview of the first few steps of the BILT instructions, meant as an interactivity demonstration only.
Within the BILT app users can interact with the 3D images on a touch screen to control the angle, perspective, and size of the animation.
For the fully interactive experience, download BILT.
A woman using BILT on an iPad drags her finger across the screen, rotating the image. Pinch to zoom: she enlarges the image and taps on a part for details.
For 3D interactive instructions download BILT on a mobile device.