Posted by Rachel Crippin Clark on 27th Sep 2023
Whether it's a reversible blanket, a sampler platter at a new restaurant, or a no-questions-asked return policy, it always feels good to have options. That's why we at TRINITY like to make our storage and organization products as versatile as possible.
We definitely believe it's important for an organizing solution to look good. But even more important is how that solution works for you and your unique needs at home. We want you to have options not only when you first purchase a product, but also as your needs change.
Where will you use it?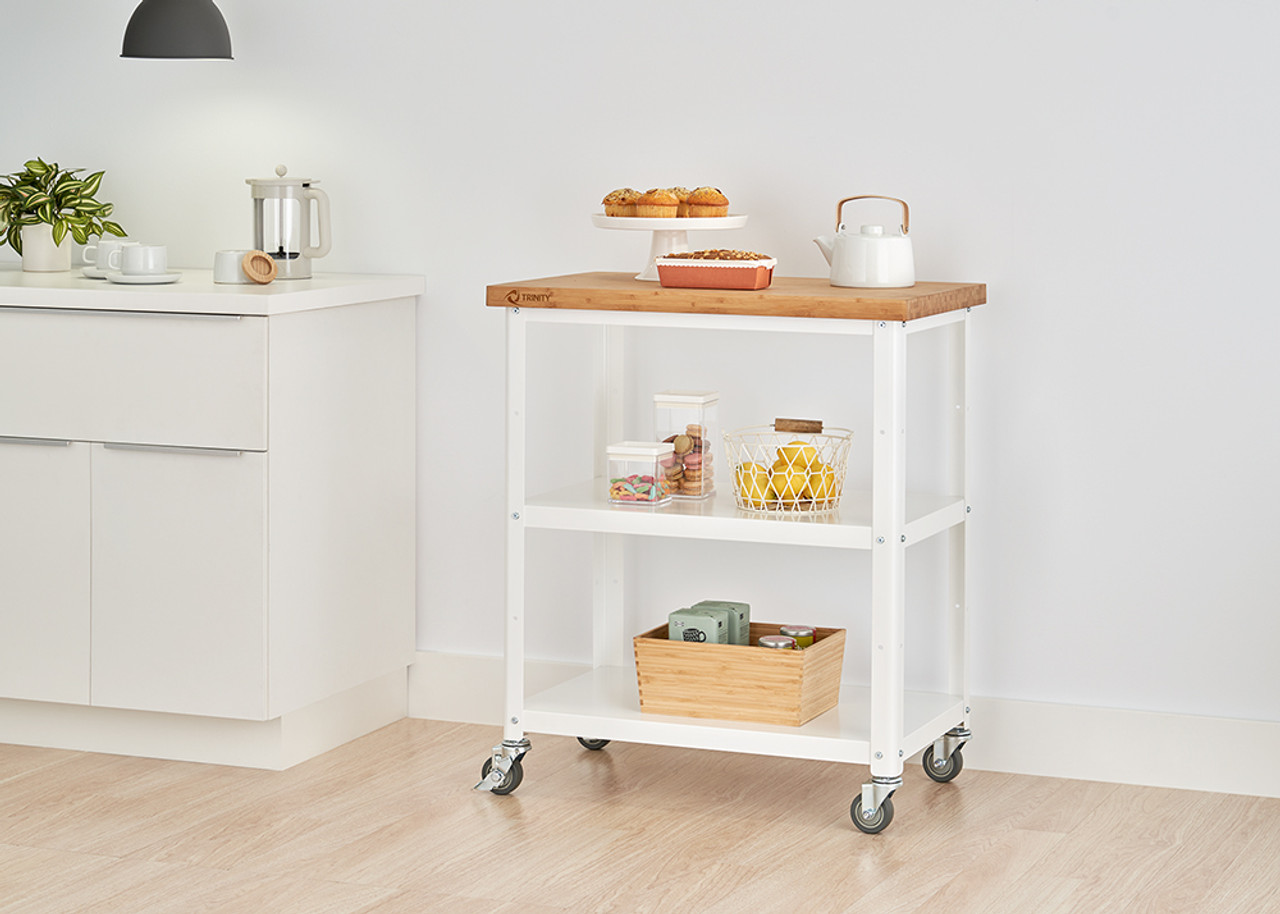 We're used to seeing our versatile "kitchen" carts used throughout people's homes. Dining rooms, offices, family rooms, mudrooms, craft rooms….you name it. There's probably no room in the house that couldn't use an extra workspace, a few drawers or some baskets. The clean lines and versatile materials of our "kitchen" carts fit just about anywhere, and they can easily be moved when a new need arises. But we have to admit we were surprised (pleasantly!) when we started seeing our stainless steel workbenches popping up in places other than garages and basement work areas.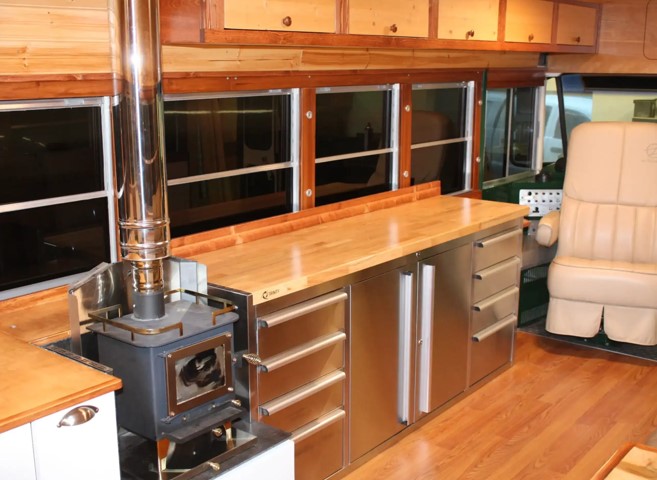 Turns out these sleek and durable beauties also work extremely well in kitchens, especially in tiny homes or small spaces. Customers tell us they love the compact combination of the extra countertop, the variety of drawers for different sized items, and the modern look of stainless steel. They're putting them to work as freestanding kitchen islands or along the walls in addition to – or in replacement of – traditional countertops and cabinets.We've also heard from a number of people who are using our workbenches in their covered outdoor living spaces….for outdoor kitchens, grilling areas, or other storage. They also make a great buffet table or drink station for your next gathering.
How will you put it to work for you?
One size does not fit all. Many of our products – including shelving racks, prep tables, shoe organizers and yes, those workbenches – come in different heights and widths to meet your unique needs. There often are different configurations with different sized drawers, as well as options for baskets or open shelving.
We also make an effort to include adjustable shelves – like on this wire garment rack, adjustable shelf dividers – like on this storage shelf with baskets, and adjustable height work tables. In addition, any products that come on wheels also come with feet levelers you can easily switch out.
Taking it a step further, our brand new EcoStorage® 5-tier wire shelving rack is built to break down into two shelving options. You can keep it as a 5-tier rack with baskets and wheels, or turn it into two separate finished racks (one with two tiers and another with three - with or without wheels).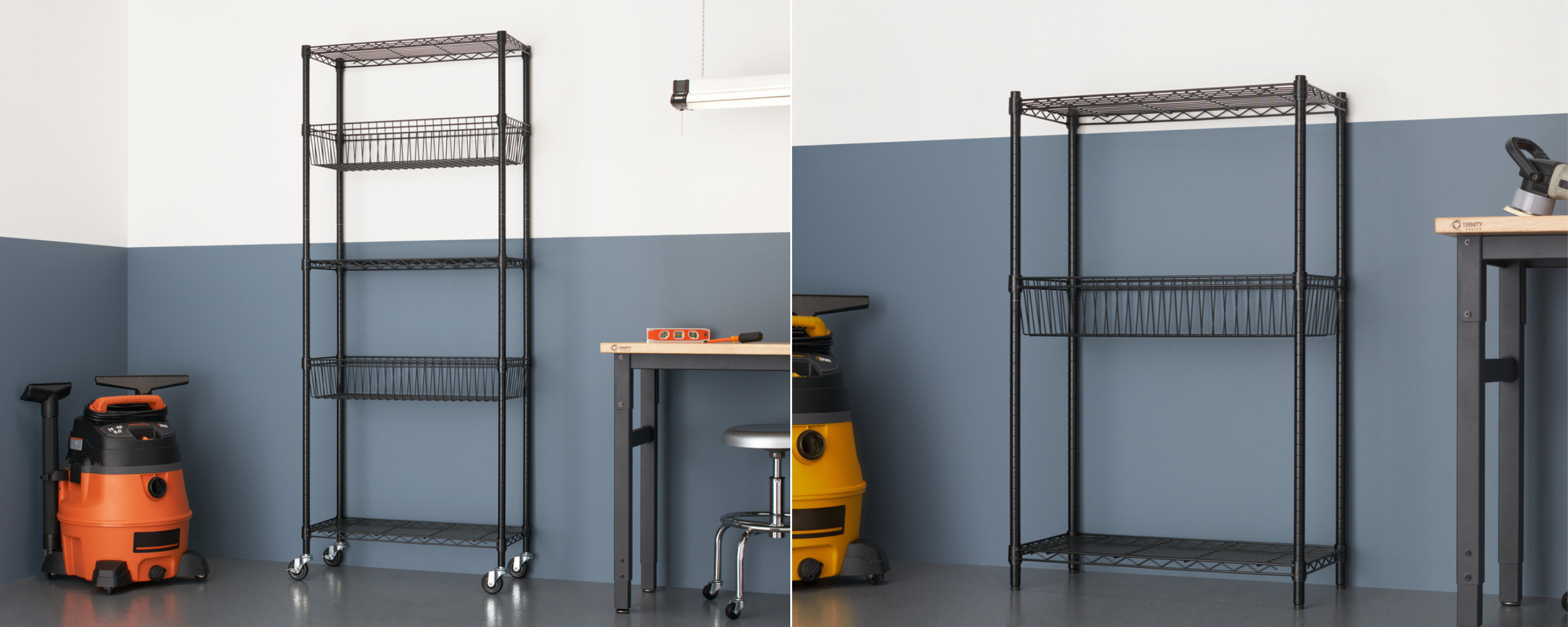 Do you have any creative hacks for your TRINITY products or organizing in general? We'd love to hear about – and see – them!